From November of 2007
We were featured! - Check out the great article "In pursuit of art in clay" in the Art Lover's Guide 2007. We're also featured in Austin Fit Magazine Nov. 2006 issue, though much of the info in the article is incorrect, the picture of the Ginko plate looks great.
Handmade Austin Women - Our collective website www.handmadeaustinwomen.com.
will be live November 18th. In May 2007, we will be growing our second show with 8 women artists.
From November of 2006
East Austin Studio Tour - Our studio will be in the East Austin Studio Tour November 18th and 19th. Visitors will be able to tour Ginko Studios and see Sunyong's latest funtional work and will get first pick before Sunyong's Holiday Sale.
Philippe Klinefelter's studio will also be open to the tour. For his next commission, a huge granite block 9' x 9' x 9' is scheduled to be moved to our studio just before the tour date.
Last but not least, Melanie Schopper's colorful and thoughtful tumblers will also be
featured. For more information on the tour, go to www.eastaustinstudiotour.com.
From March of 2005
Artworks gallery will be showing Sunyong's work thru March 25, 2006.
1214 W. 6th St., Austin, TX 78703 - (512) 472-1550 - Download the Flyer
View Pix of the Opening
Ginko Studios will be featured on KLRU-TV, channel 18 in Austin, promoting the East Austin Studio Tour which will be November 19 - 20 www.eastaustinstudiotour.com. Sorry we don't have the air date.
The History Channel's upcoming program tentatively called "What did they know?" was filmed on the front porch of our studio. Watch for the Maya Tool Demo segment, scheduled to air in spring of 2006. The demo featured our own Philippe Klinefelter.
From November of 2005
Sunyong's work will be on exhibition at the University of Texas at Austin Fine Arts dean's office. The opening will be November 15th, 4-6pm and will be on view through December.
Our annual studio sale will be December 10th, 10am - 5pm and December 11th, noon - 5pm. If you would like to receive more information, please send us your contact info.
From December of 2004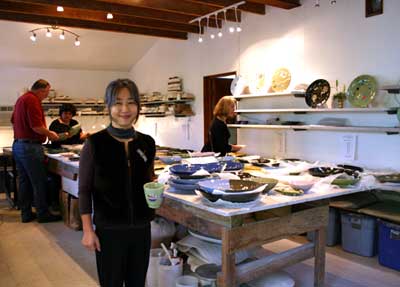 Our annual holiday sale and open studio was held the 2nd weekend of December and was lots of fun (and lots of hard work). We saw many old friends and made quite a few new friends too.
It was also very gratifying to see our new designs so well received.
The Fall '04 East Austin Studio Tour (E.A.S.T) closed on Nov. 22 and was a great success for us and many of the other artists who participated. Thanks to all who endured the "flash flood" in our facility. A river ran through our clay studio and thoroughly cleaned the dusty floor. But the gods were smiling and there was no damage. It didn't even dampen the tour spirit. A special thanks to Ann for advocating art in Austin.